I am continuing my Supernatural polish theme from last week with two more
Pretty Bitch Polishes
from the limited edition line. Over the next week you will see more from this line because I have declared it
Supernatural week
!
First up, we have the second Winchester boy- I introduce you to
Dean
. Dean's polish is described on the site as a military green/brown leaning shimmer. I would definitely say that on me it stays more in the brown zone with a flash of military green in certain lights. It also has a nice gold shimmer that comes out to play in the sun. This polish went opaque in two coats and was very easy to work with. Like all shimmers you will see the faintest of brush strokes, but they are not distracting at all. Dean's polish is named
Cram it with Walnuts, Ugly

:
Dean out in full sun
I decided to post the next one with Dean's polish because I used it as the base layer.
Bobby
's polish is described as a glitter polish that is made with copper to green color shift pigment, small copper glitters, and a mix of medium-sized iridescent copper, brown, and green hexes. This is such a fun polish for fall. In the swatches below, each finger has one coat of Bobby except the ring finger which has two coats. Over other colors, this polish has a brown shimmer base which stands out even more. Bobby's polish is called:
I'll Fudgin' Kill You!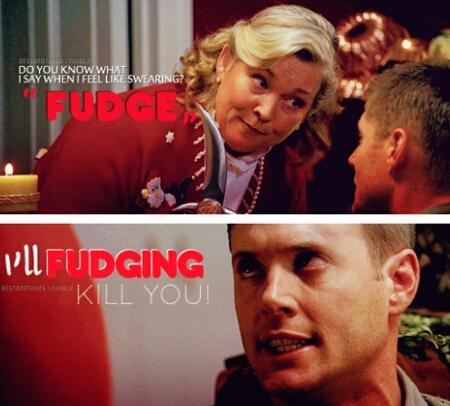 Bobby in full sun