Holo lovers like me are always looking for great indie makers who you don't have to pay an arm and a leg for.
Treasures by Tan
is an up and rising indie maker who I stumbled upon in some groups I'm a member of and I want to show you two of her polishes today. Tanya, the polish maker and owner, describes her passion as:
I am stay at home mommy of 3 amazing kids. I love making jewelry, crafts, sewing, and have a passion for polish! It has always been my dream to have my own business with my own creations and Etsy has been a great starting point! I hope to one day be able to open a "brick and mortar" shop as well. Something my kids can be proud of!
The two I have to show you today are from her Summer Holo Hangover Collection: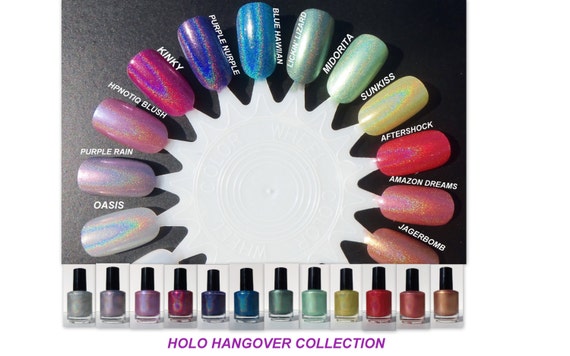 First we have
Aftershock
which is a cherry red jelly holo and has all of that fabulous holo goodness with the addition of the squishy feel of a jelly. This polish is super versatile and I love it! It is thin enough to be used as a grey canceling red holo topcoat, but easily build-able that I had full opacity within three coats. As a blogger I err on the side of caution so I added a fourth coat here just because the camera tends to find VNL that the naked eye can't see. The coats were super fast drying and did not streak which is important for a holo polish.
Treasures by Tan Aftershock in full sun showing that holo!
Treasures by Tan Aftershock in the shade still showing that holo!
Next, I have
Amazon Dreams
which is a dusty coral pink creme based holo. This polish went opaque in just two coats and just like Aftershock, it had no streaking problems! The holo in this one is more subtle than in Aftershock, but it is a beauty!
Treasures by Tan Amazon Dreams under my white lamp. The sun hid from me at this time :(
I was offered a discount in exchange for my honest review of these polishes.